The Final Cut Pro User's Group ninth annual Las Vegas summut is tonight at the Rio Hotel and Casio. Great. But where's the Rio? It's way off the LV Strip, which is a drag. There are free shuttle buses from Caesar's Palace and a few other strip hotels but nothing from the NAB Show at the Convention Center, which is where I am.
Problem solved: I take a $20 taxi ride with a friend. Ten bucks each vs. waiting for two free buses. A no-brainer.
Enter the Rio. Where's the SuperMeet?
There's a huge banner saying "Lingerie Show." Well it's obviously not there. We disappear into the depths of the Rio.
SuperMeet? SuperMeet?
"Back down the hallway."
Nope, only the Lingerie Show entrance. Go outside. My friend thinks it might be a different building. We ask around.
It IS the Lingerie Show entrance: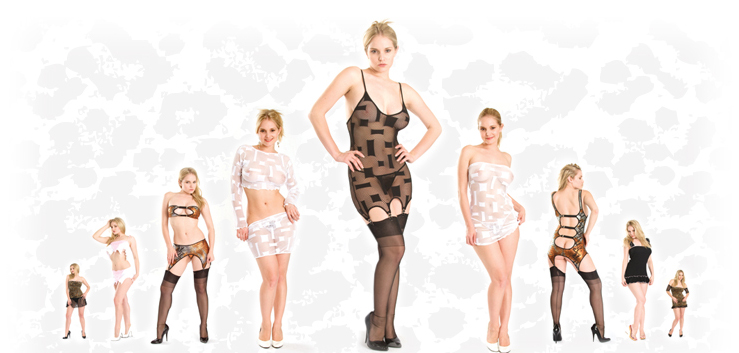 I've got to tell you, the Lingerie Show looks amazing. Too bad it's just closed. It's huge – stand after stand with seductive clothing and complementary toys. The long walk to the SuperMeet site is festooned with life-sized posters of models wearing, well almost wearing, sheer lingerie — some outfits are so sheer that only the seams are visible.
Finally, we get to the SuperMeet location and the event begins:
CANON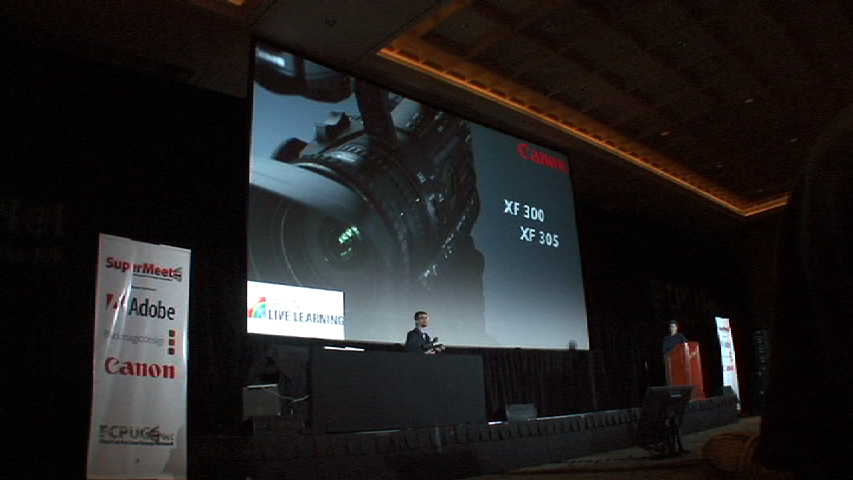 First up is Canon. I sit through the presentation and what do I see? The same videos I saw earlier at the NAB Canon stand. Groan. Everyone here is from NAB — we're all seen these videos.
That said, the XF300 and XF305 cameras look great – 50 Mbps at 4:2:2 color space. Why buy a Convergent nanoFlash tack on box at almost $3,000, when you can get this kind of data rate and color space native with the camera by itself. I'm sold. I want one – only $8,000.
Then the Canon show goes haywire. It's kind of "forget everything I just said – you can use a Canon 7D DSLR instead – and it's only $1,700." Okay, I confess, he didn't say those exact words but that was the message that came across – if it wasn't, why bring in Alex Buono, the DoP for the NBC Saturday Night Live Film Unit. Suddenly the Canon 5D MkII and 7D steal the show.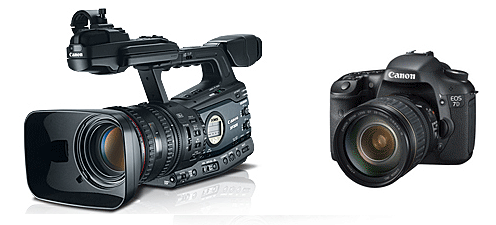 I have to laugh, as way back in 1986, I wrote an article for Televisual magazine in the UK when I said that consumer equipment is getting so good that the line between broadcast professional and consumer will blur and ultimately disappear. And it's what's happened. Canon, Sony, Panasonic and all of them have shot themselves in the foot with Best Buy products that are as good as the real pro stuff.
Anyhow Alex Buono is great. Why? Because he's a real person out on the street using the kit. He shows us videos we haven't seen before and they're funny. Yes, the 5D and 7D look terrific. If manufacturers had any sense they'd keep suit product managers in the office and let on the job enthusiasts like Alex do all the presentations.
The conundrum of the $8,000 video camera versus the $1,700 DSLR is never resolved.
ADOBE
Jason Levine is Adobe's secret weapon. He prances around and shares the love. They should bottle him.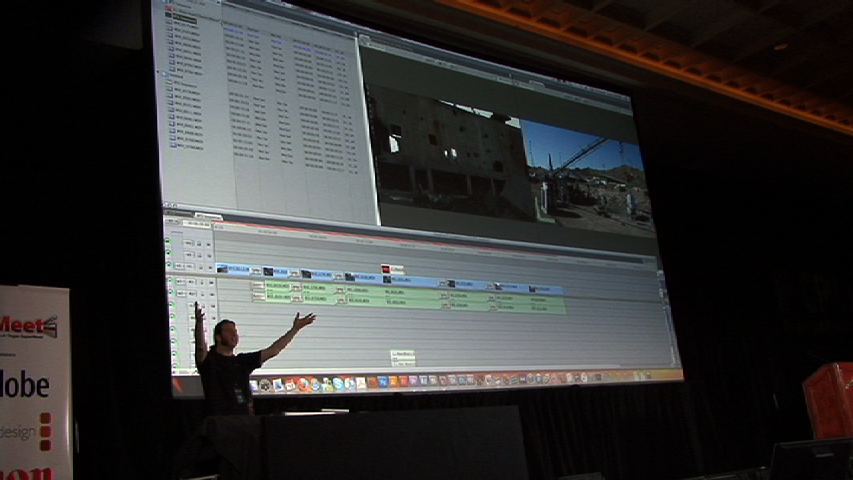 "64-bit, pure Cocoa!" You can't help liking him – well, sort of. But I'd seen the same demo before on the NAB Adobe stand. He's worth watching twice. Three times is too much.
Here's Jason in full flight – just seven minutes – I shot it from my camera on my lap.
The Roto brush for After Effects CS5 is worth the dance and the high kicking.
AVID
Next is Avid, and they are in front of an audience of 100% FCP fans. It's going to be tough.
The Avid corporate suit cleverly brings in an outside editor, Misha Tenenbaum to talk about how Avid's AMA speeds up editing. It is a bit confusing but it seems that Misha had a Sony F800, XDCamHD (A Cam) and Canon 7D (B Cam). Huh? I'd never do that in a million years.
His demo is showing how by using Avid's AMA he can import both formats painlessly.
Seems to me, if he'd shot the sequence using two identical cameras he would have saved hassle and not needed AMA.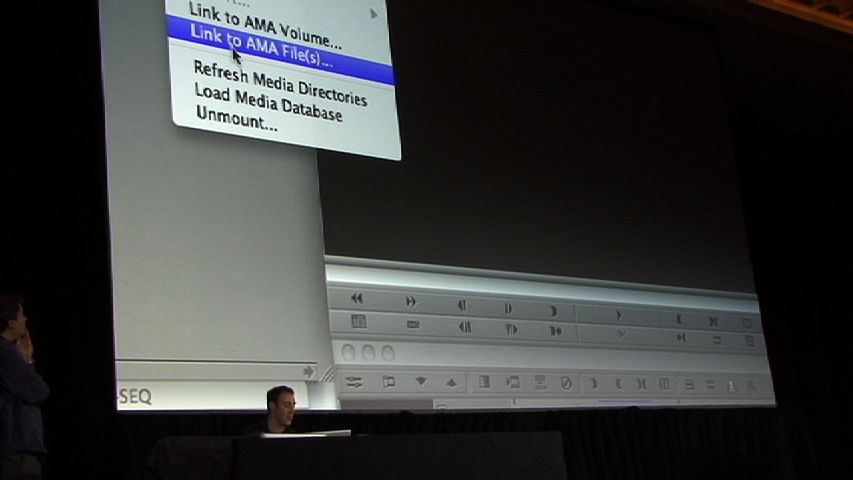 Then the Avid suit says to Nice Guy Misha:
"How much time did you save by using AMA?"
"Maybe two days"
"How much is a day of edit time"
"Um, er, about $800."
"There you go, you save money with Avid."
Yeah. Avid saves money. Now all you FCP people in the audience, scrap the system you know and love. Go buy an Avid with AMA.
Fat chance.
APPLE
Darling you gotta let me know
Should I stay or should I go?
Should he stay in Cupertino? Or go to SuperMeet? Big decision. Steve Bayes is the senior product manager for Final Cut Studio, ProRes, Logic, etc., and a super-smart, great guy. I bought his Avid book. He has my money and my respect.
If he stays in Cupertino, he will disappoint the FCP community. If he goes to SuperMeet, he'd better have some news about what's coming up next in FCP.
Should I stay or should I go? He goes.
Steve takes to the stage with cheers and whistles as if he were the other Steve at MacWorld.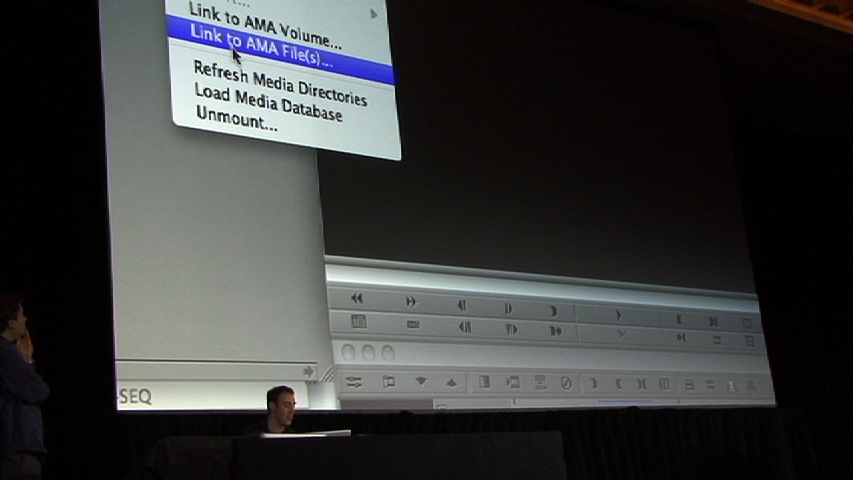 "We're not showing new products at the show," Steve says, "But I have a secret to share with you; Final Cut Studio keeps getting better all the time… that's what I'm excited about"
That's it? That's his secret? It's getting better all the time?
Steve puts up his first slide. He is "very excited" that Redrock Micro has produced a remote focus device for DSLR cameras. A deadly hush falls over SuperMeet — like a comedian coming on stage to huge applause, telling a joke, and nobody laughs.
Steve: That's so cool… It's really cool…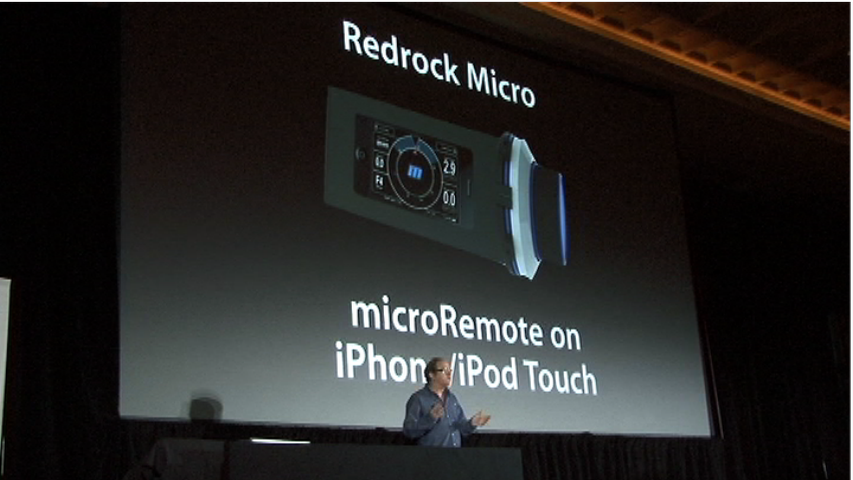 Oh, I get it. The Redrock thingy works using an Apple iPhone. Apple makes FCP and iPhone.
What? Redrock is an FCP partner. Come on, we want to know about FCP not Redrock.
Steve is obviously rattled and he has another 10 minutes to fill with FCP non-news.
Now he's telling the 800 strong FCP editor audience that many of 2010 Oscar winning movies and documentaries were cut on (guess what?) Final Cut Pro. A bit like a Christian minister telling the local church congregation "a lot of important folk are also Christians."
ARRI
At NAB it would be hard to miss that ARRI has a new digital camera, the Alexa.
At SuperMeet, there is one on the stage pointing at the audience "shooting at 800ASA." The picture looks brown and murky. No matter, the big deal is that the camera outputs ProRes which will drop right into Final Cut Pro. (Hey, look ma, no AMA!)
Pop! And there it is. Big round of applause. More demos like this please.
Sadly, we now get to see an oh-so-long production shot on the Alexa. When will Europeans learn that the average American, raised on 30-second commercials and MTV, has an attention span of just 4 minutes. The average FCP editor has a span of half that. Anything over two minutes and they start Twittering: I'm watching a pretentious video shot on the Alexa camera. The camera costs $50,000, so I would expect it to look good. Why do I have to sit through the dreary never-ending video? Lemme outta here.
BLACKMAGIC DESIGN
Finally, we get what we came for. Peter Barber of Blackmagic gives a first-rate demo of their new Da Vinci Resolve color grader. It blows Apple's Color out of the water. Personally I gave up using Color as it never did what I wanted it to do.
I saw the original Da Vinci in Hollywood, Florida in 1980. Ken Chambliss, the owner of VTA, couldn't stop talking about it. I visited Ken two or three times and watched it develop. After Blackmagic bought Da Vinci last year, they ported it to the Mac OS and dropped the price to $995 (for a software-only version).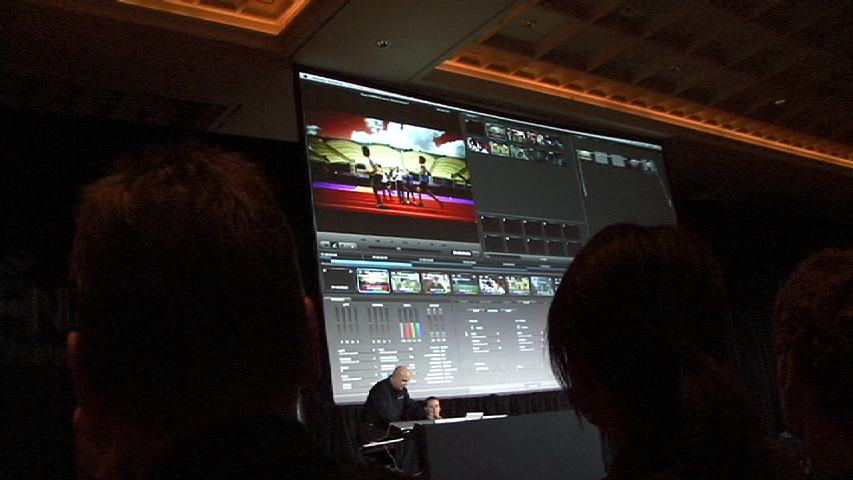 Da Vinci's motion tracking is just amazing and brought numerous rounds of applause. Peter left the stage waving a MacBook Pro saying that it will work on a laptop. More applause.
At present Da Vinci only works with EDLs – so no round-tripping using XML. Pity.
Reminds me of what Steve Bayes said an hour ago when talking about interchange with Autodesk's new Smoke For the Mac. "All this rich metadata just opens up. You don't need EDLs anymore, I mean EDLs are so 1974."
DASHWOOD CINEMA SOLUTIONS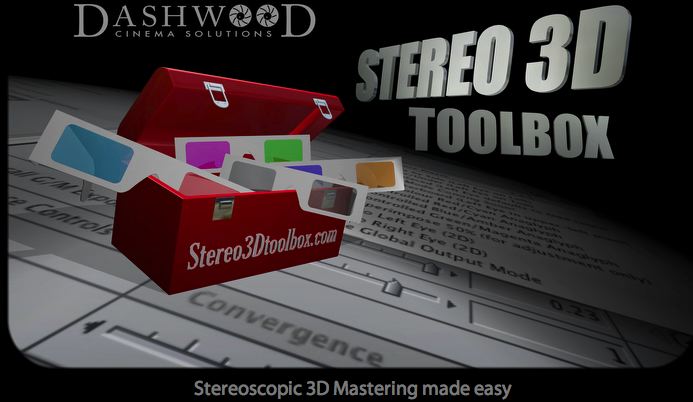 I am not expecting Tim Dashwood and don't know what to make of the red-and-green 3D glasses we are given. Aren't those days gone? Like many clever people, Tim assumes that we're on his wavelength.
Perhaps he needs a product manager to dumb the message down. Here's my version of the Dashwood deal: It's an offline product to help you edit stereo 3D cheaply in FCP. The 3D specs are there to let you know it's all working.
You shoot with two cameras — or even use Panasonic's new $21,000 AG-3DA1 camcorder — import into FCP, edit with Tim's $311 plug-in. Export out to the master format of your choice and — lo it's playing along side Avatar with regular REALD glasses.
THE WORLD-FAMOUS RAFFLE
The SuperMeet finishes with the famous raffle where $80-90,000 worth of kit is raffled away. "If you win something you don't want, please don't sell it. Give it to someone who really needs it," says Michael Horton, founder and head of the Los Angeles Final Cut Pro User Group.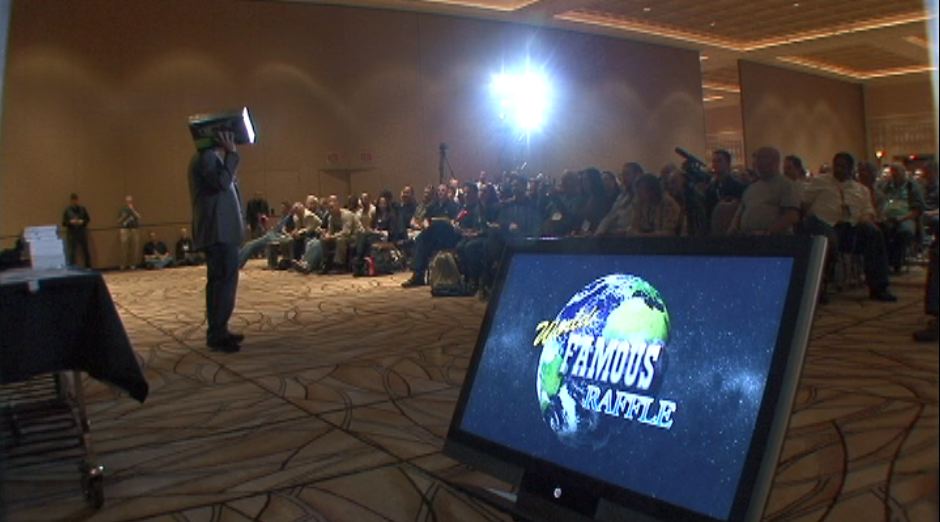 Top prizes are a Canon EOS 7D, an AJA Kona 3 Breakout box, and an Apple iPad.
I win nothing. Nobody gives me their prizes. Time to leave.
The cardboard Lingerie Show models are still in the hall. The novelty toy brochures are scattered on the floor. We exit through the Rio casino. A girl is dancing on a small stage. Video poker players are smoking and taking no notice of her.
Back in my hotel at midnight, I order the upgrade from CS4 to CS5. Will it really change the way I work? Maybe. The more it changes, the more it… well, you know the rest.