It all happens off the show floor…
If you think the NAB Show action is in the exhibitors' booths, think again. Since all of the players in the following stories are either retired old fogies, or, better still, stone-cold-dead, I'll spill the beans.
It's years ago: I'm the founder and CEO of Molinare, the largest post facility company in the U.K. – I visit NAB each year to buy the latest kit.
THE SECRET NEW PRODUCT
"Stefan, Willie told me you were interested in our new special effects generator," says the Ampex rep.
"Very interested. Our Vital SqueeZoom paid for itself in six months."
"It's called Ampex Digital Optics — does 3D effects that you can't do on Quantel or your SqueeZoom."
"I want it…"
"This hasn't been announced. We don't want the press to know. We have already have a pre-order from an L.A. company. We really want you to be first in Europe. Can you come to my hotel room tonight?"
"Sure.'
"I'm in Caesar's Palace. Here's the room number. After the show closes, say 7:00."
"Deal. I'm excited."
I take Bob, my chief engineer, to the meet. Knock on the door. The Ampex rep is waiting for me. He pours us a drink.
"Ampex ADO is going to revolutionize the industry. You ain't seen nothin' yet."
He brings out a joystick. "You have complete 3D control of the picture – zoom with perspective and rotate."
"Where is the machine – here in your bedroom?"
"Redwood City – we couldn't bring it here. It's still a prototype."
"The joystick goes nowhere?"
"Just to give you the feel of it."
"What kind of money are we talking about?"
"Maybe $250,00, maybe less. We'll finalize it when you come to Redwood City.'
"Don, I'm not sure why I'm in your bedroom. You can't show me the product, you have no brochure and no price – it's a kid's joystick. What are we doing here?"
"It's difficult for me. My hands are tied. But we can have a great time on the town. Let's go wild! Las Vegas is our oyster. Have you ever been to the Palomino?"
Silly, I know but I'd much rather have seen a preview of the ADO than go out on a date with an Ampex salesman.
We make our excuses and have a quiet meal at the Red Lobster. Moral: never meet a salesman in a bedroom.
CASH-AND-CARRY BAG
NAB floor. Different year. I wander into an exhibition stand, I've bought the product, know the people.
"Hey, Stefan, I've got a real surprise for you. Interested?"
"You bet."
"You might not have realized that when you placed the order for your third ******, the manufacturer gave us a 20% retroactive discount on all three. I spoke to my directors and they think it's only fair and honest that we split it with you."
"That is a surprise."
"I've got it in cash, it's over $10,000. But I can't give it to you here."
"I know what you're saying, but it's my company. Tricia, Robert and I are the major shareholders, but I'd much rather you posted a check."
"Stefan, this is tax-free money — do with it as you like. Please take it, but not here."
We leave the NAB main floor and enter the labyrinth of corridors.
"It's in my briefcase. In hundred dollar bills. I can't be seen giving it to you."
"Then don't. I'm really uncomfortable with this…"
"In here…"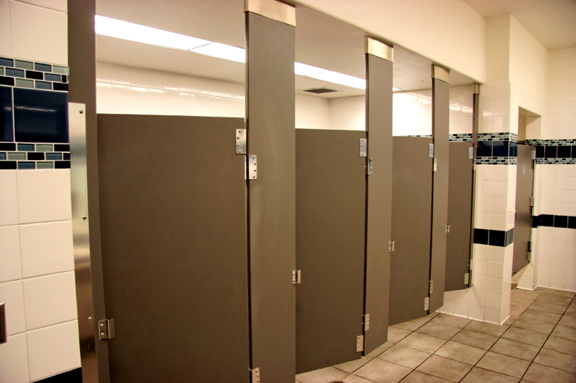 He takes me by the arm into the men's restroom. One man is just leaving. The distributor's rep enters a free stall.
"Quick, give me your carrier bag. Don't stand outside. Come in, it will only take a second." He closes and locks the door.
The two of us are squeezed inside and he's stuffing $100 bills into my NAB carry bag. I can hear people coming into the restroom.
"Wait 'till they leave."
"No, this is ridiculous — take the carry bag."
"I can't it's full of your brochures."
"OK, put on a brave face, here we go."
I open the door. The two of us emerge from the stall. Saved – there's no one here who knows me. Sheepish grins all round; a hasty retreat to the anonymous corridor.
Two true stories. I can't make this shit up.