DEATH OF A FILMMAKER 2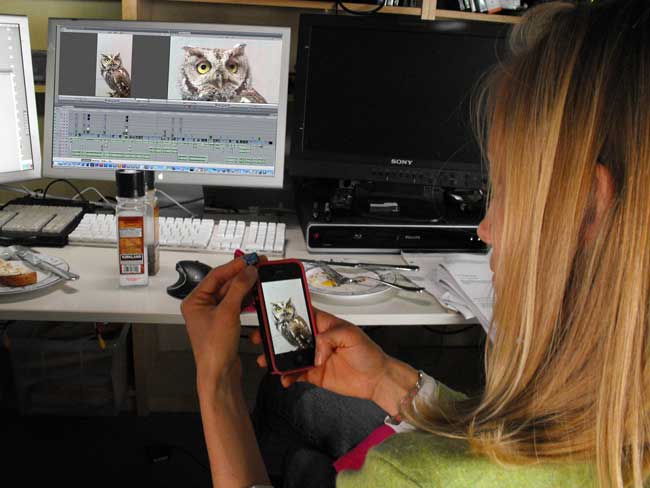 iPhone HD movies in 9:16 AlisonScope. A breakfast edit. The owl needs a x3 blowup.
San Rafael, January 2011 "Alison tell me it's not true, you shot everything in portrait format."
"I can explain: when you put the iPhone down on the table it wants to play it that way up."
"Didn't it ever cross your mind that films and television are wider than they are higher?"
"No, never. Can't you just zoom in?"
"I can but you'll lose most of the frame – it's roughly a three times blowup. Here's an idea, since everything you shot is 9:16, lets create a new video format – AlisonScope."
"Now, you're making fun of me."
"I'm sorry, the sad thing is that what you shot is excellent, nice steady shots, great subjects, it's all terrific – high definition, good color and exposure – just the wrong way up!"
WILDCARE They're a Bay Area non-profit located in my hometown, San Rafael. My daughter was a volunteer there. They look after injured wildlife, nurse them back to health and ultimately release them back into nature.
This is our fifth year of making a video for their gala. My colleague, John, got the job as his ex-boss at ABC radio is their vice president.
Way back in '07, I shot their headquarters and John and I cobbled together a video from stills and some amateur film. We get on well with the WildCare people and in '08 I get phone calls to cover various activities.
"We are returning a baby owl to its mother in a tree in Novato. 5:00 this evening in Novato. I know it's short notice."
"I'd have to leave in an hour. I'm editing at the moment, I guess I can do it. Email me the address."
"Hi Stefan, we're releasing an eagle in Olema tomorrow. Can you be at the Olema Inn at 9:00?
It's getting silly. Most shoots are ultra short notice and I'm racking up so many half days that the second year's invoice will be double the first. Not a good way to treat a non-profit.
HER SHOT IS BETTER THAN MINE Alison, who officially does their web site (http://www.wildcarebayarea.org.) and un-officially a lot more, is at many of the releases with her still camera but taking movies. A Red Tailed Hawk is being released. I get in close to the WildCare lady with the bird in the box. It's open. The bird flies out… nothing in my viewfinder. Where'd it go? It flew down instead of up! I've missed it. Alison is way back, has a better angle and films it all. I miss it – she gets it – go figure.
Her still camera is just an ordinary camera with a movie option. The content is good but the quality is not. The Canon HV20 has just come out and B&H had a special deal going. Alison has the advantage of being there and two shoots without me will cover the cost of buying it.
She goes from strength to strength. Her shots are well framed and often the location sound is useable. WildCare's 2009 and 2010 gala videos rely heavily on her work.
And then it happens – 2011, she goes iPhone.
ENTER THE iPHONE. I remember her saying, "The quality is so much better and because it's my phone, I'll have it with me all the time."
And now today, with John's script and interviews, her long-tall-Sally footage, I'm trying to piece it together.
"Alison, I can group three of your iPhone movies to make a split screen triptych, 9:16 into 16:9!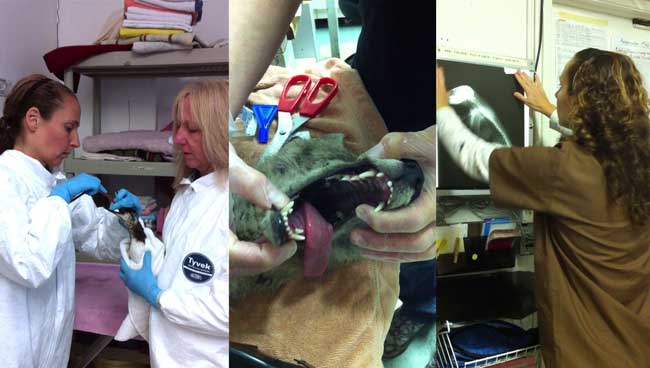 Three of Alison's iPhone movies composited into a triptych.
SAVED IN POST "You see how this shot is too dark, no shadow detail."
"Needs color correction?"
"Yes, but not the normal three way color corrector, the Lyric highlight/shadow filter is much better on this kind of shot. See how you can lift up the shadows without burning out the whites."
"I love the Lyric."
It's only a matter of time before she shoots and edits herself.
Killing me softly with her pod…