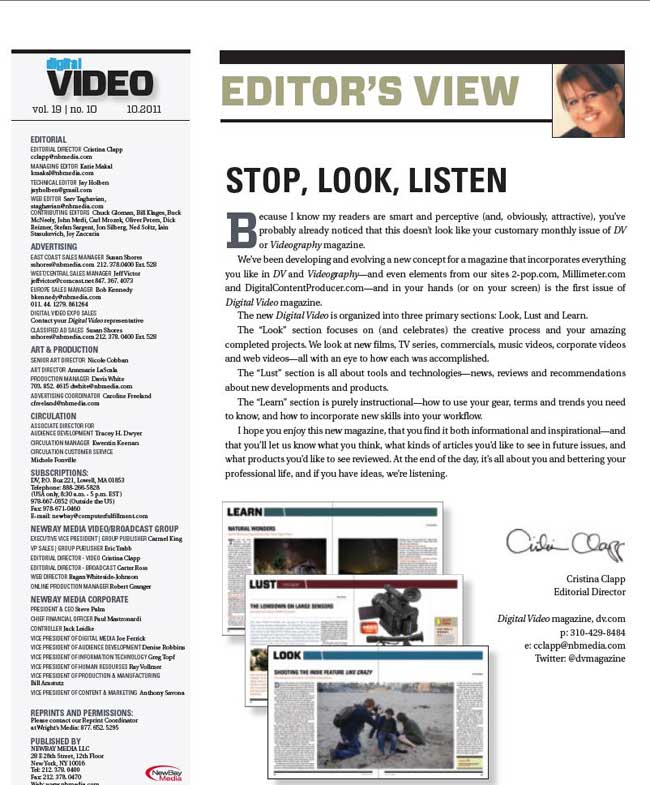 The new Digital Video is organized into three primary sections: Look, Lust and Learn. The "Learn" section is purely instructional…
So I'm in LEARN.
…how to use your gear, terms and trends you need to know, and how to incorporate new skills into your workflow
That sounds like me. But wait, there's no LEARN in my top banner. Nothing!

"We can't put LEARN on Stefan's page. I mean, there's nothing there to learn."
"Perhaps, they can learn from his screw-ups." General laughter.
Time to fight back – yes, you can learn from Stefan's page. Here goes:
LEARN: HOW TO GET THE JOB AND SAY "TRUST ME"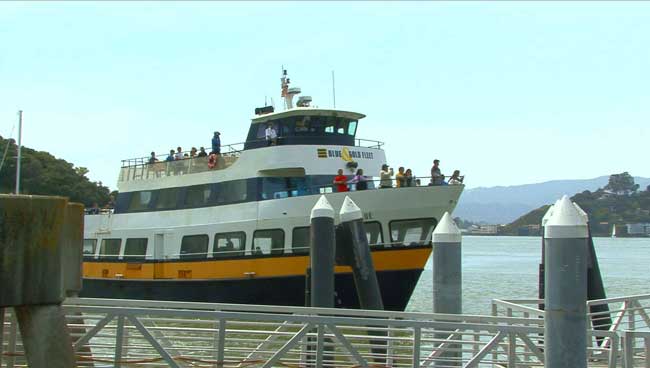 The Angel Island ferry
Dee is a friend from way back. I've made a couple of Web sites for her, never a video. Now she wants a TV spot. "Just show the island, the café, the Segways, the bike hire shop, the views, the tram ride, the beaches, the ferry ride, the weekend band on Sunday, some dancing – make it fun. Can you do it?"
"Sure. Trust me."
With a ton of suggested visuals, the thing I'm really missing is words and music.
LEARN: HOW TO GET A FINISHED PROFESSIONAL SOUNDTRACK

Betsy Holm – singer/songwriter
I'm in Vegas; it's a dinner. I've pre-paid $40. I'd better go; try to enjoy myself. "Hi Philip. Hi Dan." There's a girl playing the guitar and singing. "Now it's time for our first raffle." Raffle over, she sings another song. She's good. While the next raffle is underway, I attack…
"Hi, I'm making a commercial for Angel Island in the SF Bay. Could you do a 30 second jingle for me?" We exchange cards.
Her name is Betsy Holm. She not only sings, she writes the lyrics. "Spend the day in a wonderful way, we're heading over to Angel Island." Wow!
LEARN: HOW TO GET THAT SPECIAL, IMPOSSIBLE SHOT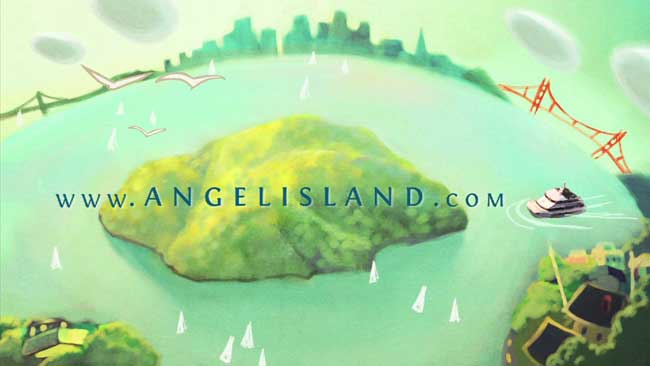 Find a student to do the animation
I say to Dee, "I want the commercial to start with a high shot looking down on the island. It's so high that we can see the Bay and the two bridges." "Great idea but we can't afford a helicopter."
My son's best friend's girlfriend's girlfriend is studying animation. She has some good work on her site. Her name is Marnie Brumder.
"Hi I'm making a commercial. I need a shot looking down on Angel Island. So high we see birds flying under us – we see the GG Bridge and a ferry going to the island."
Marnie's animation is terrific.
LEARN: HOW TO GET TALENT WITHOUT COST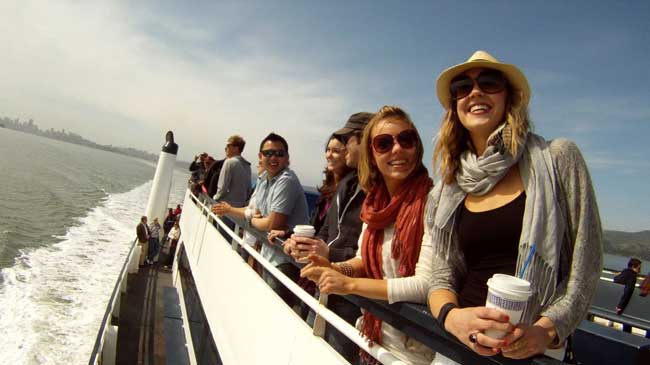 Use a hand held GoPro Hero to shoot real tourists on the ferry
I'm running out of time. I only have this weekend to shoot. I'll cut on Monday. Dee will see it Tuesday. Get it to the station by Thursday; on the air the following week.
I have no talent lined up, nothing set-up – except there's going to be a small jazz band at the café on Sunday.
I get on the ferry from San Francisco. On the upper deck are four attractive girls with their boyfriends. "Hi, I'm making a video for Angel Island. Can I film you? I don't have the budget to pay you. I have some release forms…"
They giggle and sign up. I shoot them with my trusty Sony – then in a moment of inspiration, I get out my new GoPro Hero, I'd bought the day before. Press the button, the red light flashes, I hold it out at arm's length. Nothing posed, I capture the moment as the ferry arrives.
LEARN: HOW TO ADD PRODUCTION VALUE FOR $90 A POP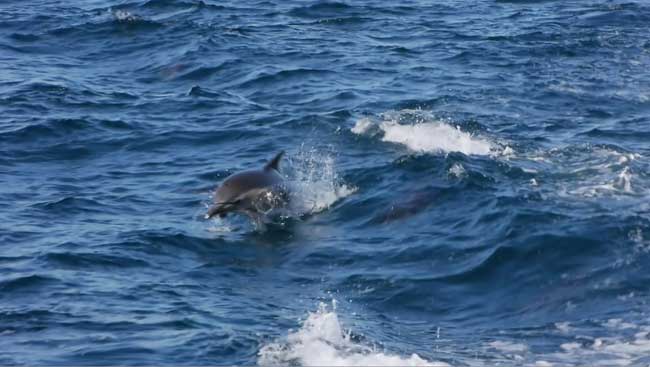 iStockphoto dolphin
Dee comes over to see my edit. Tricia says she saw a dolphin the day she went to the island. I go to iStockphoto.com. I have a dolphin in HD. Dee says, "How about a deer?" Click, click… now we have a deer.
"I love it" says Dee. Her boss loves it too. Everyone happy. I get paid.
Does this all sound too unplanned, too much left to chance? Maybe. Sometimes you need to take chances. Stefan has spoken. Learnt anything?