There's an interesting post on the DV Forum from Starman: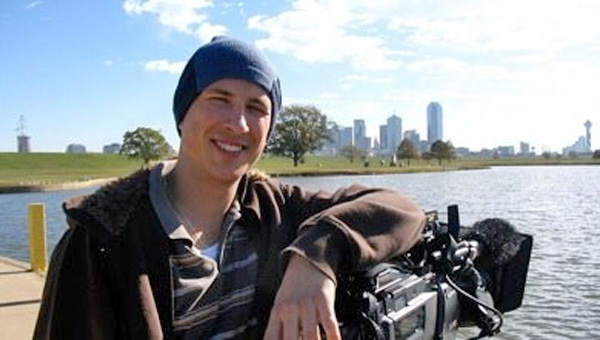 Okay, so I have been counting the days that I have been booked the last month doing, camera or audio, I worked 8 days this month. Is that slow? Or, is that average busy time for a freelancer. So far, this calendar year, I have made about 20K. I am trying to make 40K by the end of the year.
The places that I look for work are Craigslist, Production HUB, Reality Staff.com and Mandy.com. I also get requests for quotes from Production HUB and Mandy. I just got a couple of quotes from the latter in the last week, but none of them replied after sending my quote. Typically, I charge $1,400 a day for a 2-man crew, $850 for a one-man band (including light kit, camera, audio kit) which is standard in the Dallas market.
There have been quite a few job postings, seems like more productions are going on and things are picking up, but I have no shoots booked yet for next week nor next month, so I am starting to get a little worried. I have a $7,400 HPX370 (my main camera) and a Sony Z1U, sound kit, light kit sitting in the closet, not making me money.
How do most of you find work and how many days a month do you shoot?
Starman, I feel for you. We've all been there, including me. Suddenly there's no work. Everything stops, especially in summer. You get worried – I get worried. Join the club.
But as much as I can emphasize, Starman, you've got the wrong attitude – so out of touch. These days it's no good being a cameraman/editor – you've got to be so much, much more. And it's no good, being good. Good is no longer enough.  You've got to be excellent, so much better than the rest.
MEDIA WRANGLER
There's a great body of people out there with $8,000 cameras collecting dust and there are better things to do than sitting around waiting for work to drop in.
It won't.
Now – repeat after me: I am no longer a cameraman-editor – I am a media wrangler. Again: I am no longer a cameraman-editor – I am a media wrangler… a do-it-all dogs body.
Want a PowerPoint show? Yes, you can do it.
Your friend's sister wants a video on YouTube. A pushover.
The local printer needs help with Photoshop; go help him.
The neighbor wants a Web site – do it. And do it for free.
WORDPRESS
In this new economy, WordPress is king. I've written it before – if you can do FCP (or Avid or Premier) you can do WordPress. Forget wordpress.com – get the real thing, wordpress.org. It is F-R-E-E. Buy WordPress for Dummies. $14.82 and worth every cent.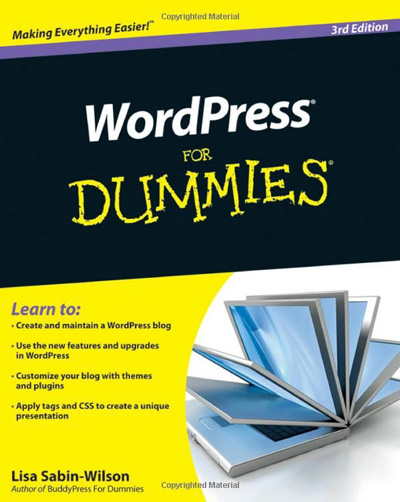 An essential filmmaking tool. Go buy it…
Download WordPress files, upload them to the root of your site. You also need to use an FTP program like FileZilla. Hey, it's free too. Now attempt the:
famous 5-minute installation, setting up WordPress for the first time is simple. We've created a handy guide to see you through the installation process.
Friends, it ain't that easy. Five minutes is correct, if you've done it 20 times before. It took me two days to figure out how to create a MySQL database. "Famous 5-minute installation" – rubbish.
Next thing is to stop your Web site from looking like a blog. I suggest kicking off with a free theme like Woo Themes Swatch.
Then move on to more complex themes. Mine is called Garnish (but please, please, don't copy mine!)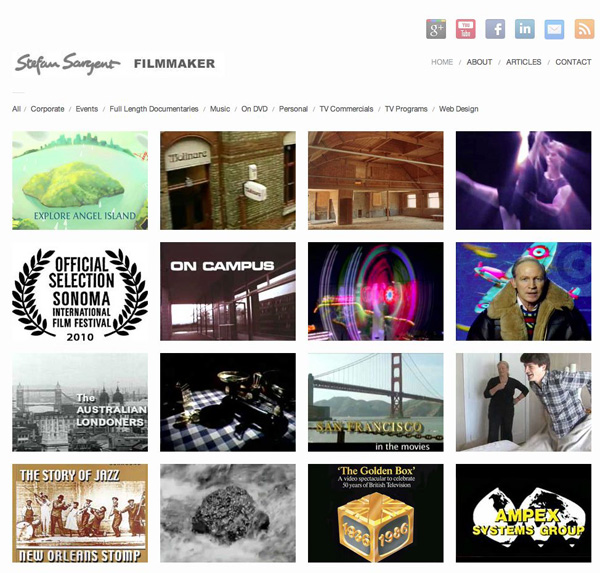 My own WordPress site
Working with WordPress will increase your Photoshop skills. (You can do Photoshop, can't you?) You'll also need some cheap tools like: SnapzPro, MPEG Streamclip, Art Director's ToolKit – but you won't need Dreamweaver, RapidWeaver or even iWeb.
Can't afford PhotoShop? Use picnik. It's a free on-line Photoshop look-a-like, owned by Google.
Unlike filmmaking, you can get into making Web site creation for next to nothing. I promise you, if you can do WordPress, you will generate film/video work. Site first – then the videos will follow. My Promise.
SO HOW DO YOU GET WORK?
Contacts. Contacts. Contacts. Contacts. Contacts. Contacts. Contacts. Contacts. Contacts. Contacts. Contacts. Contacts. Contacts. Contacts. Contacts. Contacts. Contacts. Contacts.
Contacts. Contacts. Contacts. Contacts. Contacts. Contacts. Contacts. Contacts. Contacts. Contacts. Contacts. Contacts. Contacts. Contacts. Contacts. Contacts. Contacts. Contacts.
Have I made my point?
I arrive in the USA on April 1, 1999. I KNOW NO-ONE.
My son goes to school. He wants to learn fencing and drama. They're out of school fee-paying activities. We meet Peter Meyers who runs the Vector Theater Conservatory (remember this is my first or second week in a foreign country). He tells me the cost per semester. "I can't afford that Peter – but I can make you a promotion video." He falls for it.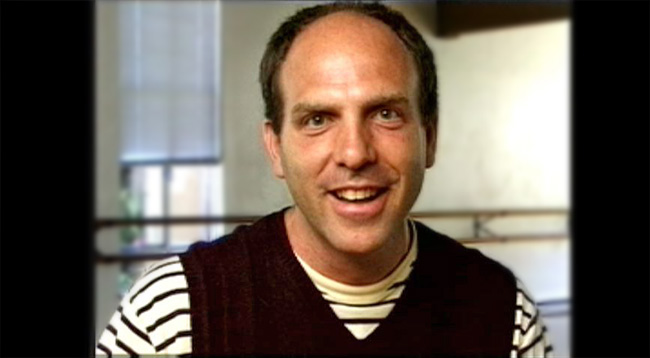 Peter in 1999 – teaching kids how to perform
It takes a week to shoot and edit. He sees it and cries, "It's so beautiful – you've captured the essence of the Vector." I'm taken aback – no British client has ever cried or used a word like "essence". I must be in San Francisco. My son has free tuition for five years.
That was 1999 – and now it's 2011. I'm booked tomorrow to shoot Peter Meyers and his High Performance Communication team. A client for over 11 years and it started with a no-money-exchanged job.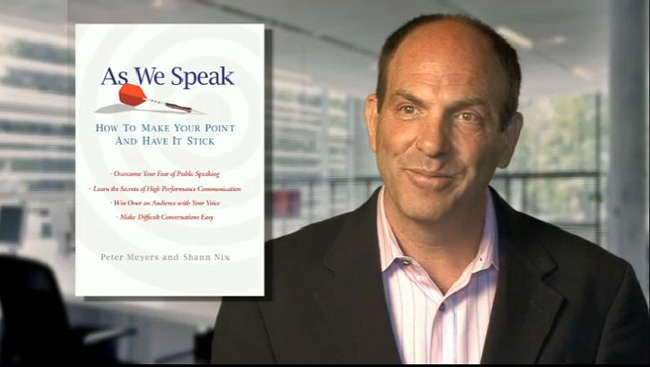 Peter in 2011 – he's written a book and is teaching executives how to communicate.
That free/contra-deal video got Peter hooked into making videos. I've traveled with him to Moscow, to Belgrade, to Montreux (three times), to Brussels (twice) and to loads of US locations.
Now consider this: just say in 1999, I met Peter at a party or maybe he's a neighbor. Just say, instead of saying, "I'll make you a video, if you teach my son drama" – I said, "Peter, I've just arrived in the States, I really need US work on my showreel. I'd like to make you a free video. Absolutely no obligation – it's free, no charge – I just want to start making videos here in the US."
The result would have been the same. Having seen how quickly and painlessly I work, he would have booked me for a real paying job. Then when he had that conference in Moscow, he would have taken me. Or that shoot in Hungary. And the week at Cisco …
Free Web site and videos powerful tools to bring in paying ones. But only one – per potential client:
Eileen's boyfriend wants a Web site. I make one for free. It takes an afternoon. Eileen's daughter needs a Web site for her restaurant. Hmmm – got to charge for that. Eileen's daughter's friend, Danny, needs videos and a site for his LA bike touring company. No question, I charge – but take note, it all started with a freebie.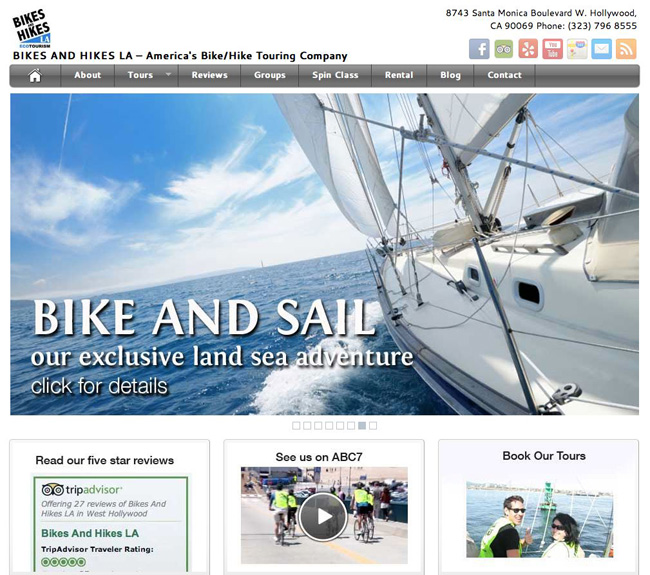 Danny's WordPress site has three videos
When you're starting – don't charge low rates – charge nothing. Then charge the full going rate. There are so many non-profit organizations who want videos. I haven't got a single neighbor who doesn't need a Web site or a video.
The guy next door sells boats, the lady downstairs does insurance claims, the lady on the opposite side has a hat shop, Mary is an art teacher, Carolyn an interior designer – and so it goes on and on. Carolyn worked for Burton, he needs videos – I travel with Burton to Germany three times. Burton knows Malcolm. I make seven YouTube videos for Malcolm.
Contacts. Contacts. Contacts. Contacts. Contacts. Contacts…