Tra La, My Ship Is Going to Be Launched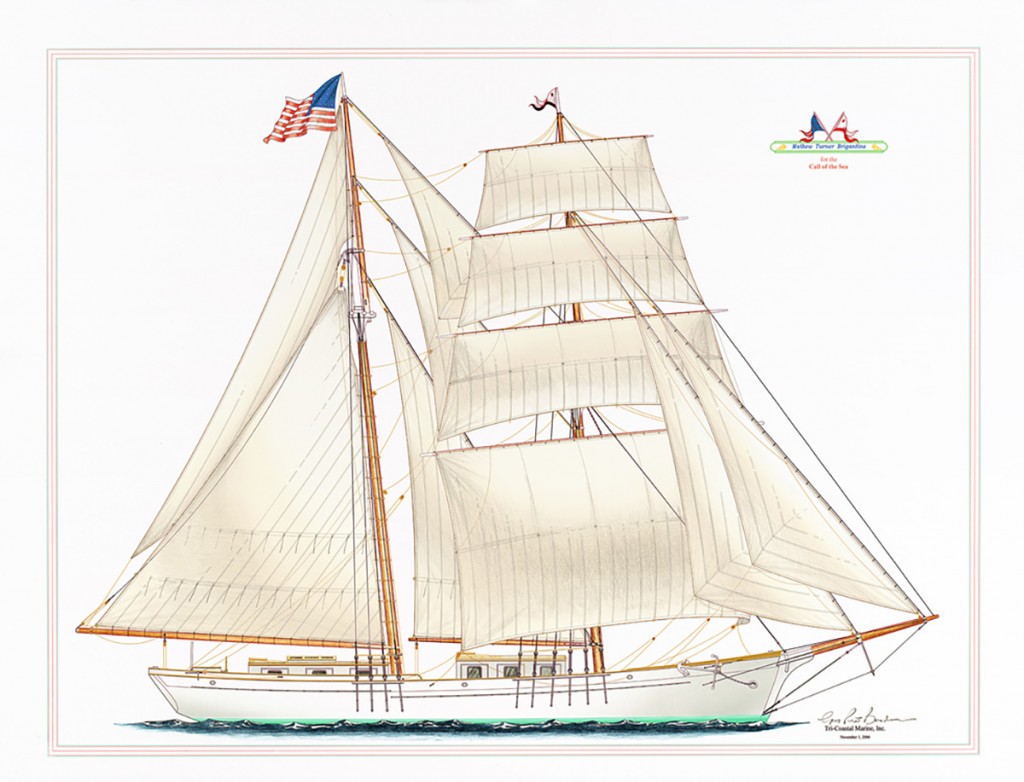 The brigantine Matthew Turner.
I started filming the construction of the brigantine Matthew Turner way back in 2012. Now it's finally going to be launched. Exciting! I have booked three guys with drones to shoot the launch on April 1. Three! Am I mad?
In addition, I have my son-in-law George, my wife Tricia and of course me shooting with conventional, ground-based cameras. I also plan to have one camera clamped to the ship's rudder and another on the forklift for the bottle of champagne. That's three drones and five other cameras, and everything in 3D.
Am I mad? Yep. You bet your sweet bippy.
MARCH 13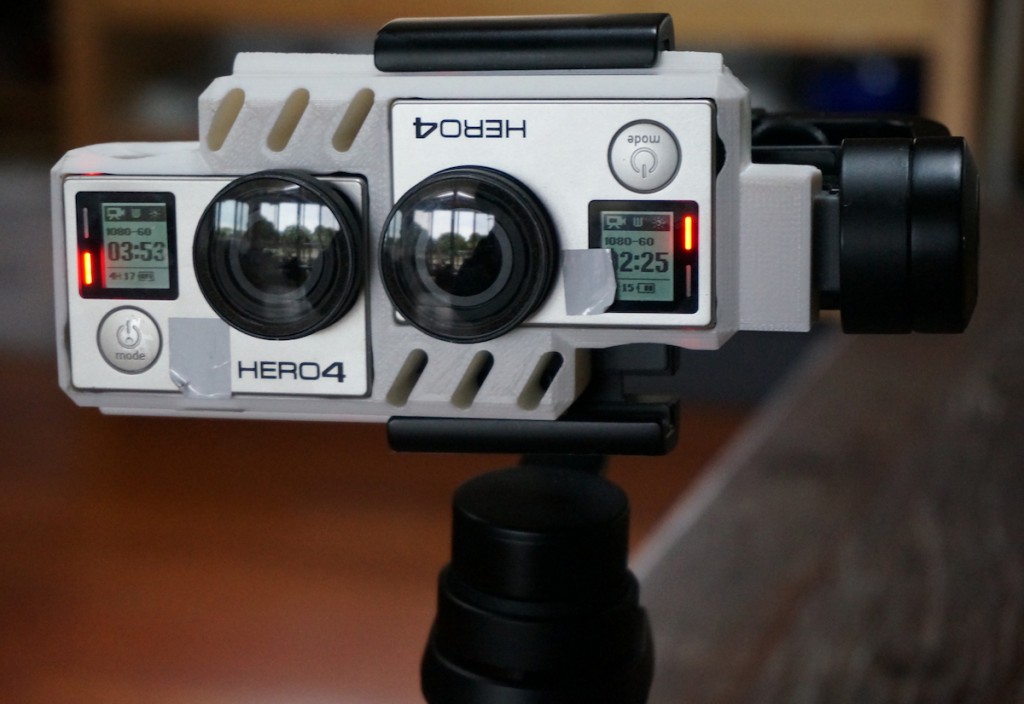 DJI Osmo for two GoPro HERO4s. Yes, it really works in 3D. Walk and it looks like a smooth dolly.
I go to the shipyard expecting to film the decking. I was there last week and they'd made a good start. I climb up the wooden staircase up to the top of the ship. Three flights. Puff, puff.
Today, the decking has vanished. Gone. Nothing is happening. I see Richard; he says Franz has stopped the decking because the plastic spacers weren't working. Huh? "Then why aren't they painting? The ship is being launched in two and a half weeks." Richard rolls his eyes. So, nothing to shoot today. Damn. Damn. Damn.
While I'm up there, I check out my new DJI Osmo gyro thing. It's made to stabilize iPhones.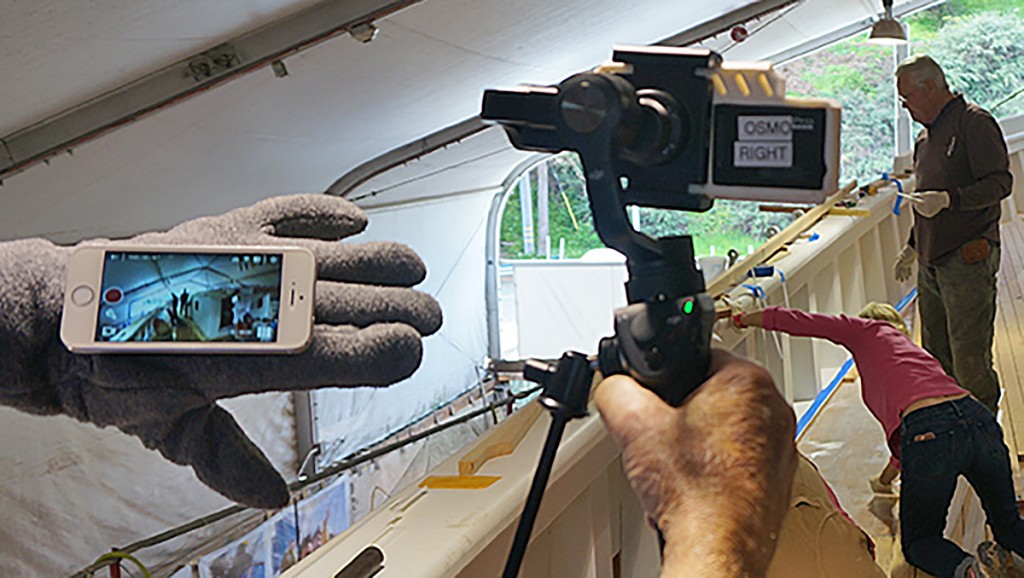 I want to use it for GoPros. Adam, my resident genius, has made a mold that fits two HERO4 Blacks and clamps onto the Osmo stabilizer.
I don't know about you, but the Wi-Fi on GoPros has caused me a lot of grief. I can't read the info on the GoPro—it's way too small. Never fear, I have found the way to do this painlessly. I clip on the LCD Touch BacPac (that's how they spell it) and set up Wi-Fi and the companion app. Once the camera is in blue flash mode, I take the back off. (Sorry, I take the bac off.)
Now I set the iPhone's Wi-Fi to Osmo and bingo, I can see what I'm shooting. I have attached my iPhone to a winter glove with Velcro. The Osmo is locked in gyro mode, everything is working, it looks great—but today on the ship there's naught to film. Whaaa!
Switch off, go home.
MARCH 14
I thought I'd have a quiet day in my office/edit suite.
Then at 4 p.m. I receive an e-mail from Alan Olson, el supremo at the shipyard, saying that a top pro commercial pilot has offered to shoot the ship's launch with a drone. Was I planning to do a drone shoot too? Was I? I have three drones all lined up! He's worried that there could be a mid-air collision. OMG.
Well, that solves one problem: I'll drop both Bryn and Tyler's drones from the April 1 shoot. Brandon, I need, as he has the 3D drone.
I do good e-mail with the new guy, Mike Jetter. He has a DJI Inspire 2 and a FAA commercial pilot's ticket. We do a ton of e-mails and finally agree on a plan: Brandon flies low, about the height of the ship, while Mike is high, looking down on the ship.
Good documentaries are planned. When they say to me, "Oh that's a lucky shot," I get mad.
MARCH 15
DJI Osmo shooting the decking three days later. See March 16 diary entry.
Yesterday there was nobody working on the foremast; today, three old boys and a senior lady. What happened? I've been filming the building of this ship for five years and I'm constantly surprised.
I wander over to the mast with my 3D camera, a Sony HXR-NX3D1. I take a wide shot and then walk down the length of the 60-foot mast. I like chatting to
the volunteers while I'm filming—so casual that they don't think I'm shooting, or maybe they do. No matter.
I get real dialogue—so much better than the fake sitting down on a chair interviews you see in conventional documentaries.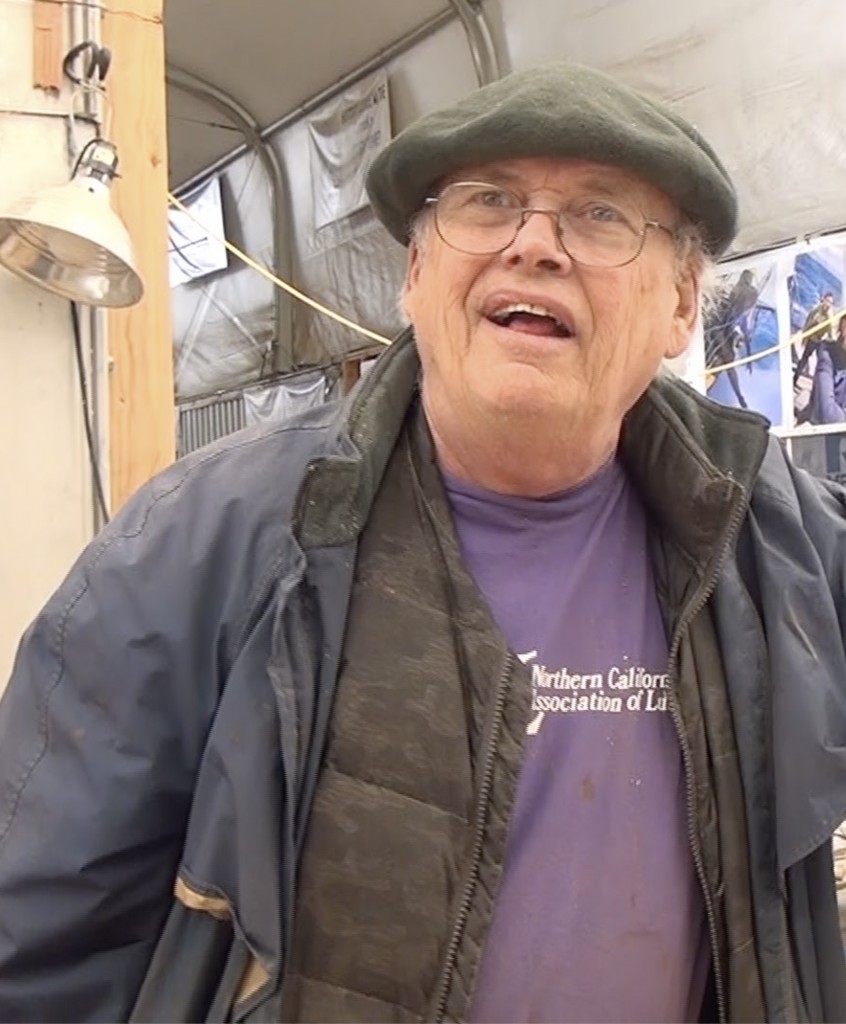 Here's Newcomb, a volunteer for the last four years. We chat. I shoot.
He says that the masts won't be ready until well after the ship is launched. "You should be up there filming the decking."
Thanks, Newcomb, great link. I'll use it.
As I am leaving the shipyard, I bump into Dan. "What's happening with the propellers?" "Could be later today." "Can't wait. How about first thing tomorrow?" We agree: the propellers at 10 a.m. Thursday.
MARCH 15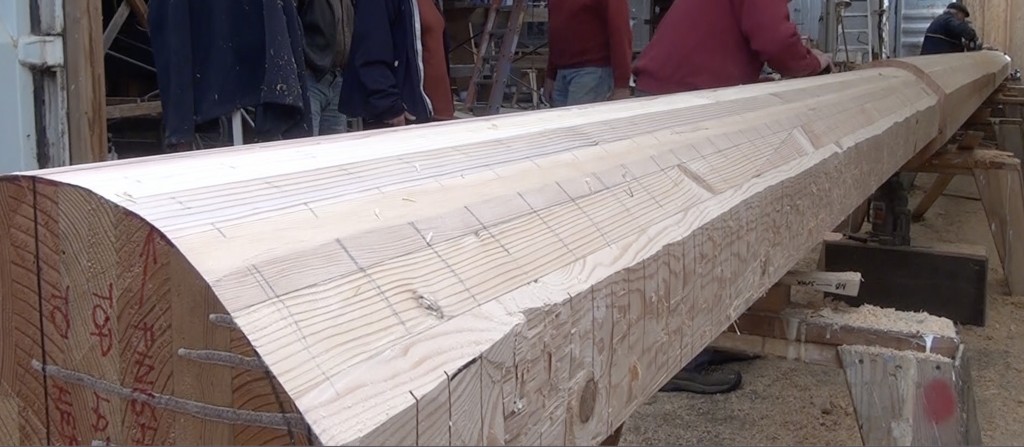 Unfinished mast on March 15
I'm up early today as a photographer is coming to shoot our house for the San Francisco Chronicle. At 7:30, Daiva and Rachel from our office arrive to help with the photo shoot.
Knock, knock; now it's a freelance stylist. Everything in the kitchen must go. The toaster and kettle are hidden under the sink. The box of cheap red wine is hidden in the fridge. Four Sonos speakers and stands move from the living room into our spare room. My bed is remade with new pale blue linen. I'm outta here; Starbucks for breakfast.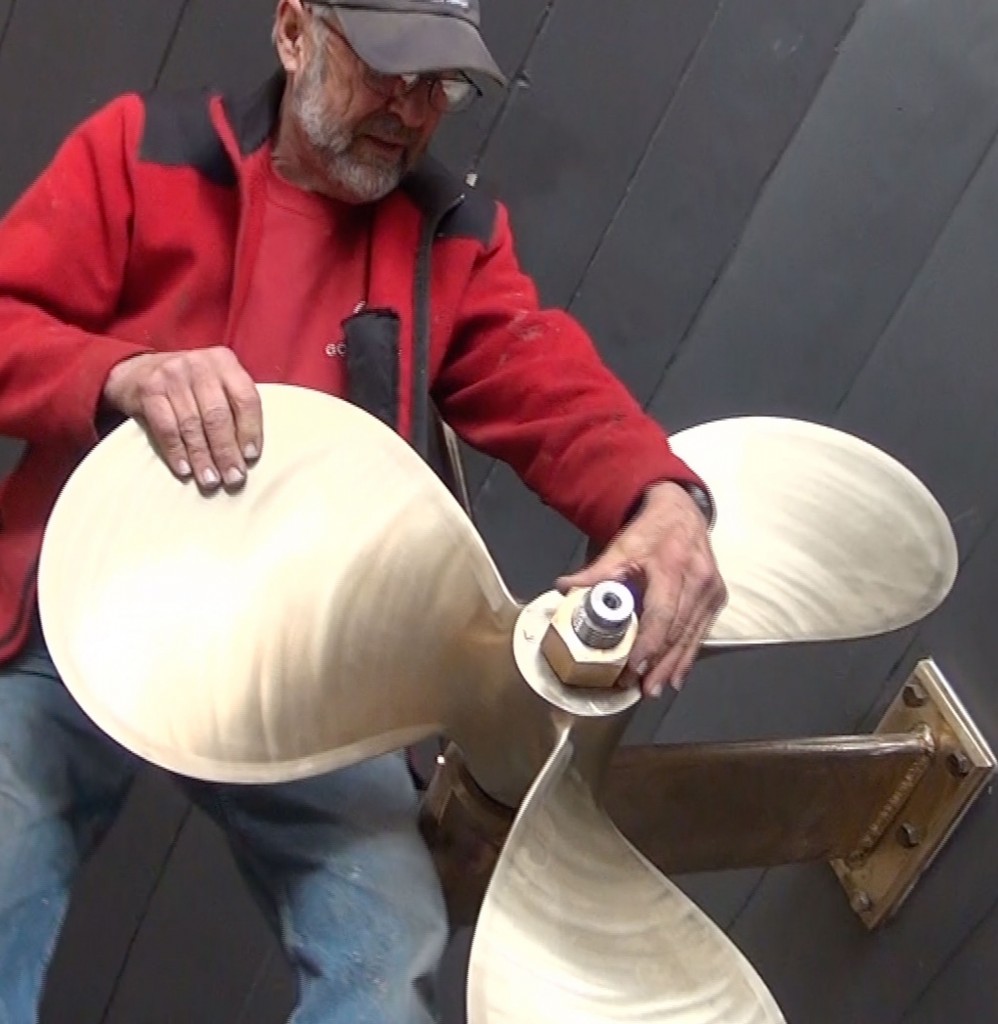 At the shipyard before 9 a.m., an hour early, it's a safe haven. The shiny new propellers are ready to go, and so is Dan. Our strongman, Jessie, rounds up some helpers. These props are heavy.
On the starboard shoot, I'm completely blocked. The only usable shot is through Jessie's legs. I'm not too pure to say "Sorry guys, can you do it again?" but I didn't bother as I know there's a second propeller to go. The port prop is a success. Looks great and I keep the camera running after the action just in case there are nice bits of dialogue.
I am trying to figure out a shot for the launch. "Dan, I have an underwater 3D GoPro. Could I clamp it to one of the propeller shaft fittings?" "You'd be better off fixing it onto the top of the rudder, looking back at the propeller. I'll make up a connector for you
Time to go up the ship's stairs. Richard is coming down. "Richard, are they really doing the decking today?" I don't want to waste my energy going up, only to discover that nothing is happening up there again. Richard gives me a thumbs up. I put my DJI Osmo kit together and power up the Wi-Fi and viewfinder glove. It's all green lights and running as I go up the stairs.
The scene on the top is chaos. Well, to be fair, let's say organized chaos. On a distant table, Chris and Bruce are sealing the decking strips. In front of them, three volunteers are spreading glue to the floor, while close to me, Franz and Neil are applying the strips to the deck.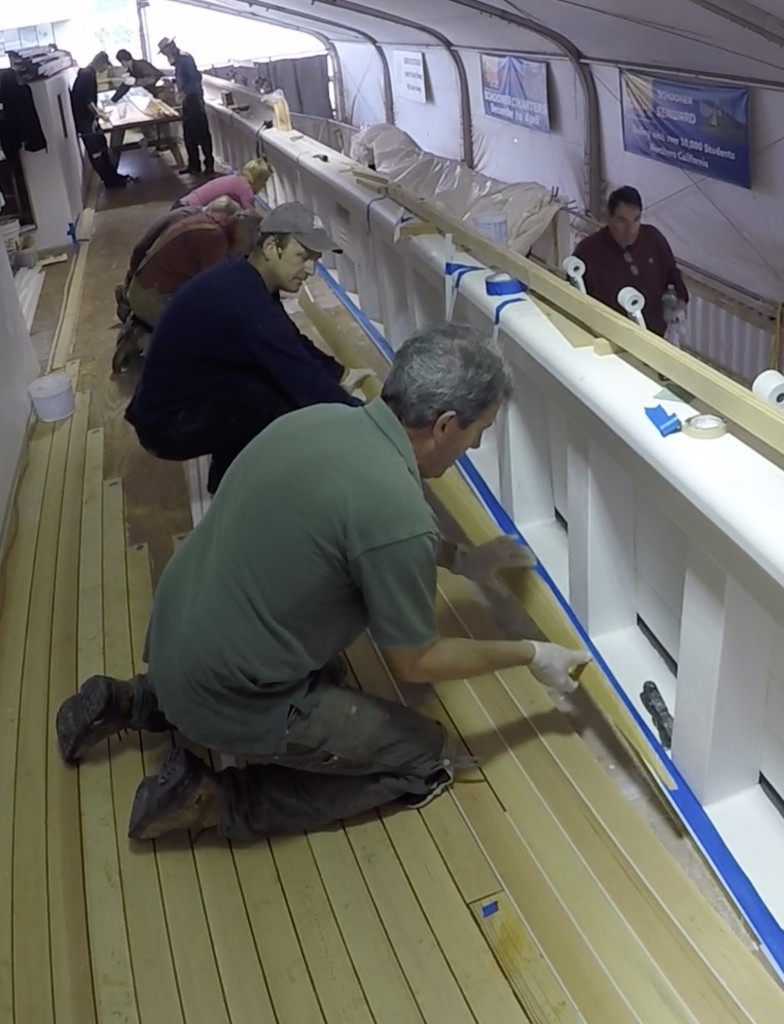 I'm shooting for the first time with my Osmo stabilizer. I had bought an Osmo extension rod to go up high, but now, as I can see the shot on my glove iPhone, high is not the place to be. In fact, the GoPro on "W" is so wide that it is hard to keep my viewfinder glove out of the shot.
The tricky thing is that the floor I'm walking on has glue, but not everywhere. It's like a minefield. One false step and the glue clamps you down. And you thought filmmaking was easy.
Eventually I get the perfect decking "money shot" on the GoPros and swap to my trusty NX3D1. I figure a low-angle might work and lie down flat on the new decking, hoping I won't stick to it.
My doctor asks, "Are you getting enough exercise?" Ha! Now some high and low reverse angles. Doctor, yes I am!
What a Difference Three Years Makes
See the ship as a wooden skeleton in 2014:
https://vimeo.com/120268228
The Matthew Turner was finally launched on April 1, 2017. Watch it  here: https://vimeo.com/213005704