SAN RAFAEL, CALIFORNIA, JULY 2009 "In the summertime when the weather is high, you can chase right up and touch the sky."
What? Does that make any sense to you? What is Mungo on?
Let's get honest. If you're in the business of making sponsored films, summertime is the pits. I don't know anyone in this business who has a scrap of work in the summer. If you're like me, working for corporate clients, it's slow — dead slow.
It's actually worse in Europe. In France, August is the month when every business closes. While Paris is full of tourists, the Parisians themselves scurry away down south, causing the world's worst traffic jams. It takes two hours to get into the St. Tropez parking lot. Getting out is worse.
So here we are in summertime 2009 at a loose end again. I phone my colleague: "What's happening, John?"
"We have several jobs in September. October is looking good."
"Forget that. We need work now."
"Dave's away, Mary isn't answering my calls — it's just very, very quiet."
THE GHOST OF SUMMERS PAST
It's the mid 1970s; we have a holiday house in the south of France. It's actually on an island — a half-hour boat ride from the Le Lavendou. To pay the mortgage, we rent it out in August. Rented out — means we're not there in the S of F.
We're stuck in London, scratching around for work. Of course there isn't any, as it's summer. My clients are away, their clients are away. I cut a new showreel, re-arrange the office furniture and spend the time worrying. Is this it? Will I ever get any more work?
I need a haircut. I cross Oxford Street into trendy South Molton Street. The barber has a plastic box for 15 audio cassettes.
They slide in and out without their silly, hard-to-open cases. I want one; it will be perfect in the car. "Where can I buy one?"
"Designed it myself and had them made."
"They're terrific, I'll buy one. No, come to think of it, I'll market them for you. Give me a price for a thousand."
I MUST BE MAD
So now I'm designing ads, finding shipping boxes, pricing advertising for cassette boxes.
"When the weather is high, you can chase right up and touch the sky."
OK, Mungo, you win.
I decide to run small ads in the Sunday Times. I get a special rate for a month. CASSETTE 15 Audio cassette storage for your car £15.00. Looks good and, to my surprise, the orders pour in. Hundreds of them. Tricia and I are packaging, labeling and mailing like crazy.
Disaster strikes. The packaging isn't strong enough for these delicate plastic boxes. Almost all arrive smashed into little pieces. There are irate letters, phone calls, refunds and replacements. The new, stronger cardboard box costs almost as much as the cassette box itself. Now people are complaining that the wretched things are falling apart in their cars. These fragile things are designed for barber shops and nothing else.
Despite canceling the ads, the orders keep pouring in. Checks come in. We post them all back.
CLASSICAL FUSION
Fifteen years later: It's 1990, in the summertime, yep — the work stops dead. This time
I have employees wandering around aimlessly. Got to keep them busy. What to do?
I know, we'll make Classical Fusion, a new twist on Fantasia.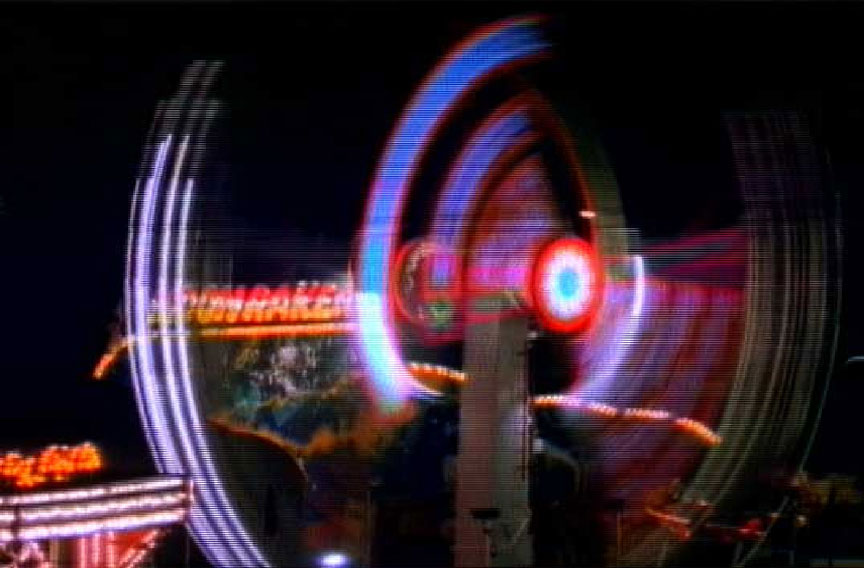 I have two sources: Select Effects, a library I bought from Nashville, and our own homemade VidiKIT. I select the music and hand out suggested graphics to our editors.
Julie creates motion graphics for Mozart's "Requiem" on our Quantel Harry. Junior editor Mark Wharton cuts Select Effects to Ravel's "Daphnis and Cloé."
When it's finished, I go to EMI Classics.
A lady there loves it. She sends it to EMI Japan, where music LaserDiscs are big. "Come back next month. We'll have a contract ready."
But, next month, she isn't there. The new team at EMI Classics knows nothing about Classical Fusion and throws me out.
Then a wonderful thing happens. Summer is over. Work is pouring in and I'm busy again.
See a track from Classical Fusion at www.stefansargent.com/ravel.html