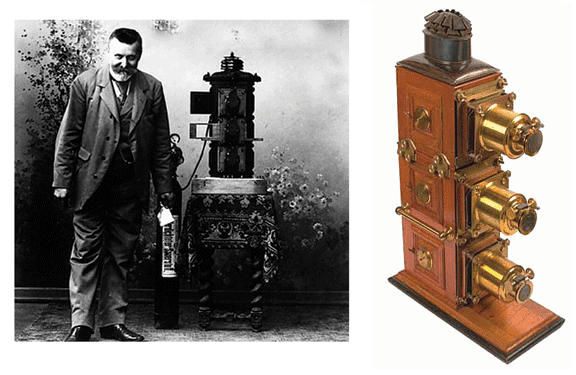 A Cool Way of Saying "Thank You."
Why is it that while the big, complex jobs can go smoothly, the little, simple videos for friends, family and clients are a world of hurt?
SAN FRANCISCO February 2010 We've finished a healthy budget corporate job — the client's happy; we'll get our final 50 percent. Today it's ready to go, I'm burning the master DVD — the client wants 750 copies.
"Stefan, I'll drop by and collect the master DVD at 3 p.m. Then I'm off on holidays. Oh, Don thinks it would be nice to make a slideshow, something to have running on the screen before they show the movie to their staff. About 30 slides — lift some frames from the edit. No music, just an old-fashioned slideshow."
"Good idea, Rob. I'll have some frame grabs ready by 3. I think we should do this without charge, a cool way of saying thank you. Should only take a couple of hours."
THURSDAY Rob Arrives — "Here are some more stills from Don. Just scan them. I can't wait to get away. When you've finished, just post the envelope back to Don with the finished slideshow."
I open the manila envelope — it's full of photos, some small, some too large for my scanner. There are also a couple of CD-Rs with photos.
While I'm scanning, Rob is choosing and numbering photos. "What about the frame grabs from the video?"
"Forget them, Don really wants the best of this lot."
FRIDAY — Rob's screwed up. There are two #12 slides, two #24s. He didn't use any shots on the CDs. I phone: "Stefan, I'm just back from the kennels. I'm really upset. I tried to tell him we were only away for a few days. I could hear him howling as we drove away. Look, I'll leave it to you. Just pick the best of the photos."
It's not easy. I choose 40 photos. Put them into iPhoto and click on slideshow. Yes, I want Ken Burns FX and dissolves. Five seconds a slide seems best.
When I try to export, the aspect ratio vanishes, it's nothing like the on-the-screen slideshow. I'll e-mail Kenny, he knows everything Mac-wise.
SS: I'm making a simple slideshow. I thought it would be easy. Wrong. It all works in iPhoto on the screen but falls apart on the export. I've got iLife '06.
Kenny: Stefan, the iLife '06 slideshow is pretty useless, you really need iLife '09.
Drive to the Apple shop, then drive home. The move from iLife '06 to '09 works. My slides are still in the folder and — yes — I can export 16:9 with the NTSC DV codec. I phone Rob. Too late, he's gone. Have fun, Rob.
MONDAY — I put the slideshow on my server.
Don: What happened to the frames from the finished video? Please add another 12.
Katie: Katie here from head office. Saw the slideshow. Love it. I've found some good stills from last year's annual report. I'll put them in Dropbox.
TUESDAY — Don: Looking good. But far too much industrial plant. Need many more scenic pretties. Do you have the aerials from the '08 shoot?
WEDNESDAY — Katie: Wow. So much better. Here are my thoughts. At 1:14, take this shot out. At 2:15, looks too similar to other photos. At 3:01, the guy no longer works here, so take him out.
FRIDAY — Don: Really getting better with all the new slides. Weed out some of the black and whites. Overnight FedEx DVDs to me and Katie.
TUESDAY — Sharon: Hi, Stefan. It's Sharon. We met at the plant. Just love the slideshow. I found some old company calendars. Each month has a collection of staff photos. Will FedEx.
THURSDAY — SS: Don, the 120 calendar shots from Sharon are all B&W portrait while the main show is landscape mainly color. Mixing them up is a mess.
DON: Suggest you keep the color one as-is and make a second B&W slideshow.
MONDAY — Rob arrives back. "Hi, I just spoke with Don. He didn't have the heart to tell you. It was a hot night. The party was outside. They showed the main video inside and everybody wanted to go out again."
"You mean…?"
"Yep. They scrapped the slideshow. Stefan… Stefan, are you okay? I heard a loud thump."