WHO NEEDS DINNER WHEN YOU'RE ON LOCATION?

SYDNEY, 1963
I'm shooting American singer Damita Jo. Channel 9 has bought in top London based director Kenneth Carter. Fly in both the talent and director from overseas… yes, it's a great Aussie tradition:
Sydney's famed Opera House – designed by Danish architect Jørn Utzon.
Australia's capital city Canberra – designed by Chicago architect Walter Burley Griffin.
Why should high-end television be any different? Heck, who wants local talent; fly in the experts!
That said Damita is amazing and Kenneth Carter, the director of the Benny Hill Show, is vastly more experienced than any local.
The show is studio based. It's called "Damita Jo Down Under." I'm booked to shoot Damita seeing the down under sites. Ken has a limo and driver. We're off to La Perouse, where Damita meets an aboriginal and throws a boomerang herself. "Got it. Stefan?" "No worries, Ken."
Next Bondi Beach where some guys with surf boards and bikini clad models walk by. Just there by accident? Oh, yeah. I try to make it look un-staged. Now shots of Damita in front of the Sydney Opera House and Harbor bridge. Damita boards a Manly ferry and gets off before it leaves. I've done this so many times.
Now for lunch… "Stefan , you're a local, where do you suggest?" "Harry's, it has to be Harry's Café de Wheels in Woolloomooloo. It's traditional Australian cuisine.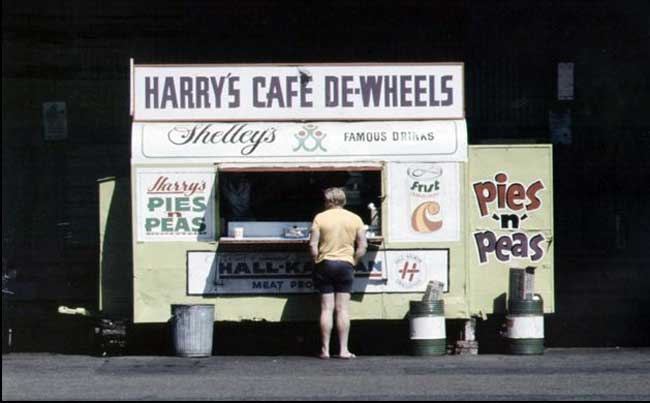 Tucked under a long wharf, Harry's Café de Wheels has fed countless film crews and celebrities like Frank Sinatra, Robert Mitchum, Marlene Dietrich and Elton John.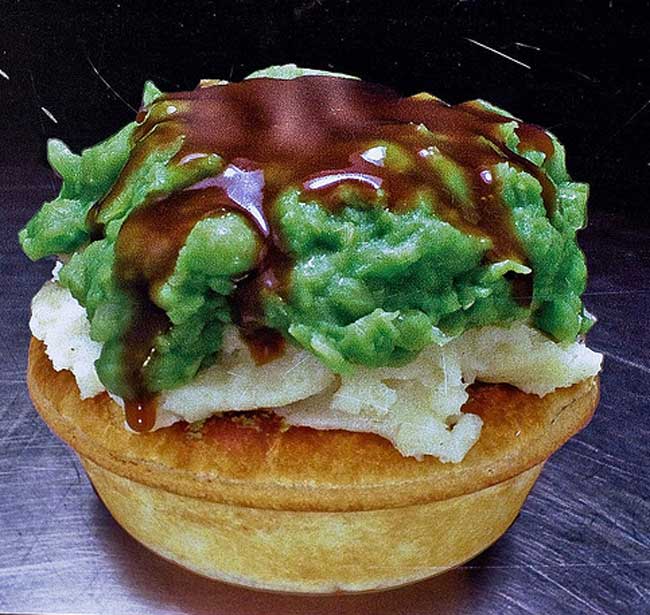 "Let's have a Tiger, my favorite." I lie, but I need the shot of Damita eating a meat pie with mushy peas. Damita puts on a brave face. I'm shooting so I can't eat. Funny about that. In the interest of full disclosure, I've have to admit my grandfather's business, Sargent's Famous Meat Pies is Harry's original supplier. I have meat pies in my blood.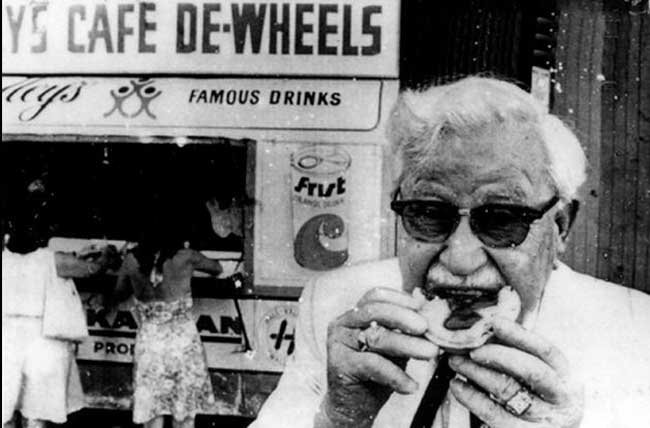 Harry's is so famous that even you-know-who eats there. Legend says he ate three meat pies, one after the other.
MHS – MEANS "MUST HAVE SCAMPI"
London – anytime in the '70s. It could be one of a hundred shoots. Tricia and I are driving up the MI to shoot on location. Is it Birmingham, Coventry, Leeds – it doesn't matter.
We try to arrive at 9:00, meet up with the manager, shoot and wrap before lunch..
He trek us around with us while we shoot the showroom/ the factory/ warehouse/ whatever…
"I think we've got it. Love to take you to lunch. Can you recommend a restaurant?"
Tricia and I follow him in our car. "Nice guy – MHS, I sure." "Don't laugh when he says it." "I promise, not a snigger."
"So nice to get out. I'm usually eating a sandwich in the office. Let's see… Yes, scampi. Must have scampi."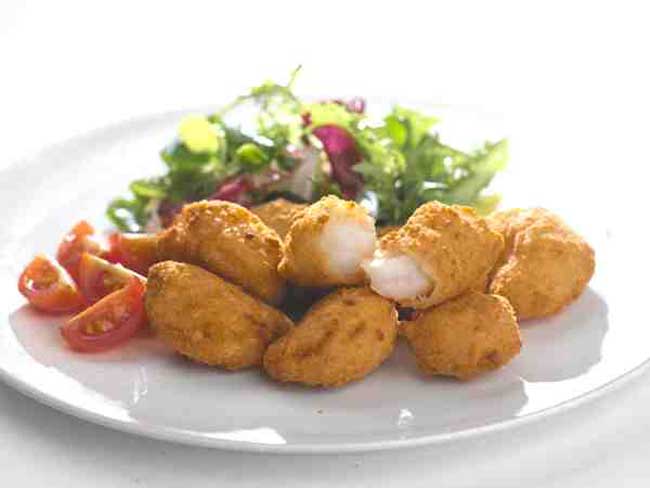 The old MHS… our eyes meet but we keep a straight face. We love our north of London clients but what is it with scampi? The menu has steak, chicken, fish even pizza but nine times out of ten, it is "MHS".
"Scampi, mmmm, good choice. We'll join you. Three scampis please and a bottle of house white."
FRANKFURT, GERMANY
We're here for the day. It's all been lined up. The local manager of ICI Autocolor is going to take us to a re-finish shop. He's going to talk, in German, about ICI Autocolor, only something's gone wrong. His Gruppen Früher is away and he ain't going to say nothing, no way.
"Well, can I take shots of the spray painting and maybe some shots of you and the re-finish paint buyer?" "Okay but no sound." "No sound – promise."
I take silent B-roll. When we're packing up I say. "Can I do a short interview – sound but no pictures?" "No photography?" "That's right, just a sound recording, no pictures." "No problem, just don't say it's me talking."
I've nailed him. Everything I need except sync. sound, who cares? Lunchtime cometh…
"We're done. Let's eat. Do you know a good local restaurant, something typically German?" "Yes, just down the road. I'll take you there."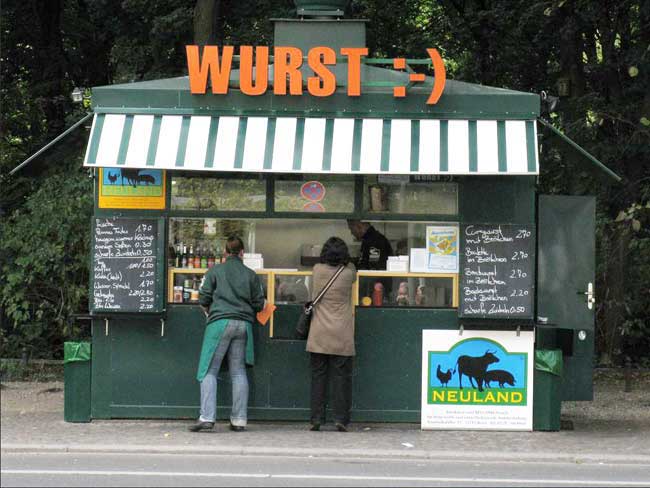 Yikes!
A German version of Harry's Café de Wheels – not meat pies – but sausages! Our host insists on buying us a big one each. This is not like an American hot dog; there's no bread roll – picture a huge sausage wrapped in paper. Gross. There's nowhere to sit down (just like Harry's) – we are standing, eating our sausage in the street. It's cold and raining lightly. Give me Harry's CDW anytime. Now I miss Harry's, this stand doesn't even have wheels.
Tomorrow we fly to Bordeaux. Same production. We'll be met at the airport by the local ICI Autocolor rep. We'll shoot and have lunch. Got to be better than this.
BORDEAUX, FRANCE
André, a happy Frenchman, is at the airport to meet us. Unlike Germany, the weather is warm and smells of pine. He takes us to the hotel. It's huge. Five stars and a few more. Long, white terraces, gardens and an Olympic sized swimming pool. "Don't worry," he says, "We're paying for it and I've booked you in for dinner tonight."
Sod filming, I'm staying here all day. I wish…
We dump our luggage and André drives us to the first body shop. It's a modest shop, much smaller than the one in Germany. A family business; his wife runs the office and he has three spray painters.
At about 10:00, I'm up a ladder taking top shots on my 9.5 mm Angenieux lens. It's hot and the air has spray paint fumes. "Would you like a drink?" I call down, "Sure anything, tea, coffee, wine…"
Back on floor level, Tricia takes me into the office. A bottle of Bordeaux red is open and glasses are waiting. Not only that, there's a selection of local cakes and pastries. The French take food seriously, very seriously. We're not in Germany anymore.
I shoot André and the body shop owner together chatting in French. "ICI Autocolor." "Ah, c'est magnifique!" That's it. We pack up. "I'd like to take some shots of the river, vineyards, anything that's says Bordeaux."
I film some grapes on the vine, get back into the car and we drive off. Funny, the drive is taking too long. "Where are we going André?" "A surprise." Oh no I've done that one before when Rudy took me to the Mercedes warehouse on Sunday night  . Maybe there's an ICI Autocolor office somewhere with a staff canteen.
Finally a clearing in the vineyards and a stone building – it's an old winery. We enter and go downstairs into the cellars. And guess what? It's a restaurant. Not just a restaurant but a restaurant gastronomique!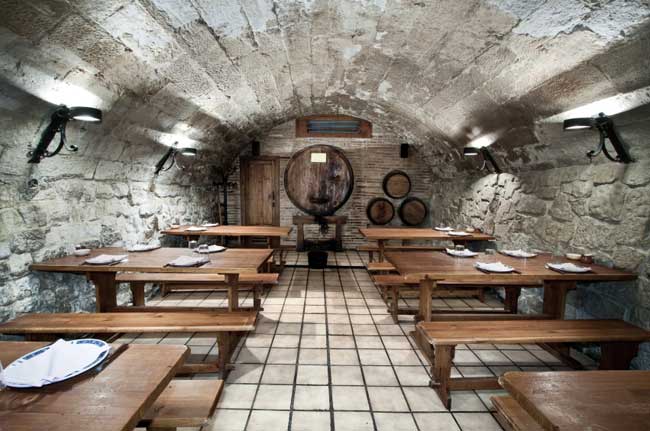 Let the wild eating begin! One course after the other. Each one separated by a small plate of culinary diversions. "Is this the main course, André?" He just smiles and refills my glass. Some plates need red wine, others white. The food doesn't stop. People join us. Lots of laugher and jokes in French. I don't understand, but I laugh.
After a few hours, I say, "Aren't we shooting this afternoon?" André smiles and pours more wine.
FOUR HOURS
That's how long we are there. I can't remember the last hour except that it was a series of desserts.

We arrive back in Bordeaux. Go to another garage. It's bigger, more modern. I guess I filmed it. I'm working on auto-pilot. "André take us home, SVP."
The hotel manager is pleased to see us. "Bon soir, the restaurant is waiting. You have a table booked." "I'm sorry, we couldn't possibly eat another meal." "But you have a reservation." "Please forgive us. Charge a cancellation fee." The hotel staff hate us.
The sun has set. It's dark. We sit around the swimming pool. We have bottles of wine from the body shop and a brown paper bag full of little cakes. Some bats are circling. The pool and gardens look incredible.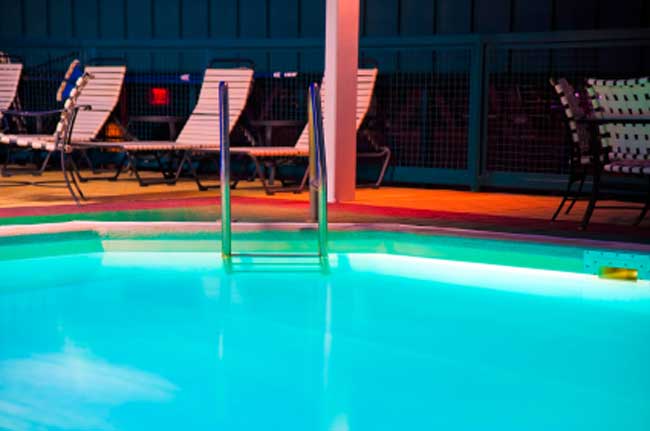 Let's swim. No costumes required.
It's a tough job – but someone has to do it.